Chemical peels are great skin rejuvenation solutions. These cosmetic treatments have been used for over 100 years to create a controlled shedding of damaged skin cells. Thousands of treatments are performed yearly to tighten the skin, reduce wrinkling, and restore a youthful appearance.
What is a Chemical Peel?
Chemical peels are also known as derma peeling. Chemical solutions are applied to your skin to remove dead skin cells and trigger the production of new cells. Chemical peels are not to be substituted for a facelift, and peels cannot correct excessively wrinkled or sagging skin. However, a chemical peel can be performed in conjunction with procedures to reduce wrinkling greatly.
Chemical peels improve certain skin conditions and are most commonly performed on your face, hands, or neck. Chemical peels can help reduce or improve the following:
Uneven pigmentation
Age spots, sun spots & freckles
Fine lines and wrinkles
Dark patches or melasma
Rough or scaly patches on the skin
What Types of Chemical Peels are Available?
Unique chemical solutions provide different results. The choice of what chemical peels you need depend on what you want your peel to do. Consult with your esthetician to establish what chemical peel depth is best for you.
Light/ Micro Chemical Peels
A light or superficial chemical peel, sometimes known as a micro peel, provides subtle improvement. The outermost layer of skin peels away, and this can be a great peel if you have fine wrinkles, acne, uneven skin coloring, or dry, rough, or sun-damaged skin. In addition, a light chemical peel promotes a healthy glow. Light chemical peels have little to no downtime, with only a few days of redness. Ask for a light chemical peel every two to four weeks. A light chemical peel includes mild chemicals such as alpha hydroxy and beta hydroxy acids, including glycolic acid, lactic acid, salicylic acid, and mandelic acid.
Medium Depth Chemical Peel
A medium-depth chemical peel removes the outermost layer and upper part of your middle layer of skin. A medium chemical peel is an exceptional choice if you have uneven skin tone or skin discolorations, age spots, acne scarring, or moderate wrinkles. Recovery from a medium chemical peel usually takes up to a week for the redness and peeling to disappear. Enchanted uses VI Peel, the #1 chemical peel on the market, for enhanced collagen stimulation. VI Peel is formulated to combat the signs of aging. VI Peels are made from a synergistic blend of ingredients, which provides a deeper penetration to soften fine lines and wrinkles. The targeted formulas help enhance collagen stimulation to increase cell turnover and promote a decrease in the loss of elasticity as well as softening fine lines and wrinkles.
What's Good About Chemical Peels?
Chemical peels reveal a younger you and help turn back the clock. However, you will need a certified esthetician's talents to ensure a chemical peel is done properly. Contact the professionals at Enchanted Medical Aesthetics in Ormond Beach, FL, for more information. For booking or other inquiries- visit our website at https://enchantedmedicalaesthetics.com or call the office at 386-317-1449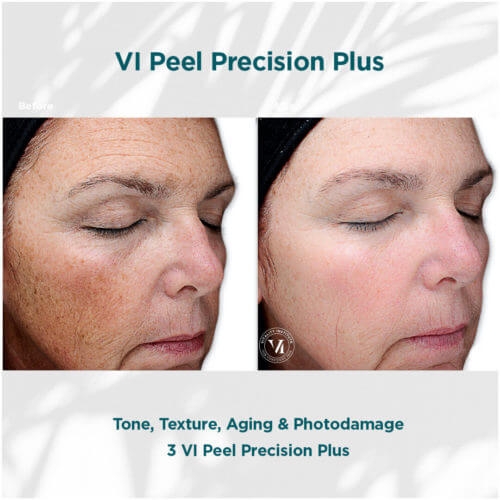 Pictured above is a patient before and after 3 Purify with Precision Plus VI Peels.